Download SuiteSpot's Turnover Checklist
We have created an extensive checklist to help you keep track of your apartment unit turnovers. It can be used for renovations as well.
Managing over 1000 units? That can mean a lot of turnovers! Our software was created because we found spreadsheets just could no longer cut it. Our software helps you be more efficient and makes sure nothing falls through the cracks with automated workflows and so much more.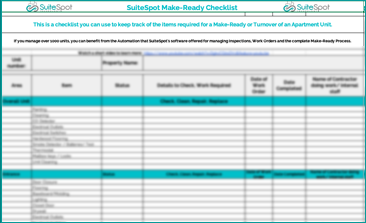 Complete the form on this page to get access to the Excel Checklist.